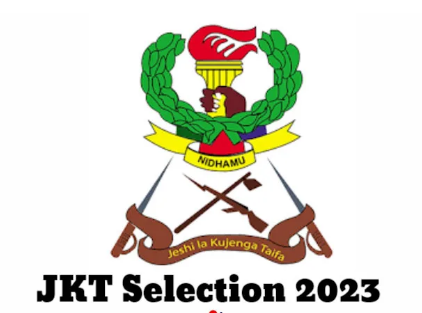 Form Six JKT selection 2023 wito Mujibu Sheria lists
www.jkt.go.tz 2023 The list of Form Six leavers joining the National Services in 2023 is now  available After being released on the official JKT website
CLICK TO MAJINA MUJIBU 2023 BATCH TWO SIX SELECTION 2023
Use the following links below to download pdf selection to check your JKT National Service station allocation
The Army for Nation Building (JKT) is invisting young people who will finish form six of secondary school in 2023 from all schools on the Tanzanian island to attend JKT training as required by the law.
JKT training always lasts about three months, during which time students are well-recruited as Curriculum lead. Some of the JKT Camps for Form Six JKT Selection 2023 are listed above.
National Service was established on 10th July 1963 emanating from the ideas of the Father of the Nation, the late President Julius K Nyerere who once said " National Service is the demand made by the Nation on youth and youth response in fulfilling their duty in building the Nation".
OUR CORE VALUES (JKT CORE VALUES)
1. Loving work – To prepare young people to be a responsible society with a spirit of love to work
2. Discipline – Teaching young people to be obedient and respectful.
3. Patriotism – Prepares young people to have a spirit of patriotism, brotherhood and love for their country.
4. Volunteering – Preparing young people to have a spirit of dedication and commitment.
5. Unity and Solidarity – Preparing young people to be a united society and national unity regardless of their cultural, political and religious ideologies.
6. Integrity – JKT builds young people to be honest, truthful and reliable for the Nation
How to Check Majina ya Form Six Waliochaguliwa Kujiunga JKT 2023
The following below is helpful guide or instructions to access names of form six selected to join JKT this year:-
1. Get your internet support device like smartphone, laptop or computer.
2. Have internet access or Data Bundle
3. Navigate to the JKT website link http://www.jkt.go.tz/
4. After page link open you go search for the announcement of "JKT Selection 2023 Kwa Mujibu wa sheria"
5. When you see it open announcement to find various jkt camps.
6. Click on the names of each JKT Camp to download PDF file that has names.
Find all the relevant information about newly employed teachers By TAMISEMI 2023: TAMISEMI Expect to release names of  school teachers who passed the competency test conducted to equip schools with competent and qualified teachers to provide quality education and learning to pupils.
How to check List of newly employed teachers 2022
1.Visit Tamisemi official website (https:/www.tamisemi.go.tz )
2.Press To the New Announcement section on Tamisemi website
3.You will get it in PDF Form (After release)
4. Use this Link (CLICK HERE)
Waliopata Ajira New Employed Teachers 2023
Visit Official JKT website For more details you can visit >>http://www.jkt.go.tz/