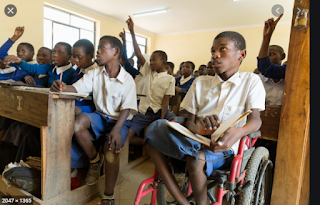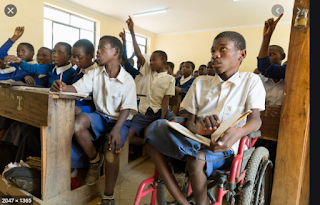 HISTORICAL DEVELOPMENT OF SPECIAL EDUCATION
(ATTITUDE TOWARDS PEOPLE WITH DISABILITY)
 1ST PHASE: ERA BEFORE CHRISTIANITY
During this time people with disability were neglected, abused, killed because they were not productive, therefore they are not valued.
2ND PHASE: CHRISTIANITY ERA
As time went there was change in attitude and society become more protective i.e. people started to realize that these people are created by GOD and they shouldn't be killed.
So they decided to put them in "Asylum" (refuge) and given food and shelter. The institutions were built far from the residential areas; children/people with all impairment were combined, so the condition was bad. But no type of education was provided to them.
3RD PHASE: ERA OF SEPARATE EDUCATION
At this time there was some sort of acceptance. Therefore certain institutions were separated fore different categories of disability.
4TH PHASE: ERA OF INTEGRATION OR MAINSTREAMING/ INCLUSIVE
Era of total acceptance, normalization of services provided, they are put in regular classes with the same mainstream of the society. There was all continuum of services.
HISTORICAL DEVELOPMENT OF SPECIAL NEEDS EDUCATION (SNE) IN TANZANIA
In Tanzania we do not have any written records concerning people with disability. However, there is oral history which indicates that there was negative attitude toward disabled. In 1978 infanticide was practiced in some of the societies.
Tanzania as a member of the International Community has signed and ratified various UN Conventions and has several declarations of services to people with disabilities e.g.
1952 the 1

st

 publication of UN in rehabilitation as basis for establishment of services
1971 – declaration on rights of mental retarded persons
1975 – declaration on rights of disabled persons
1976 – the proclamation(declaration) that 1981 was going to be international year of disabled persons in France
1974- Universal Primary Education (UPE) –which emphasized the right of all Tanzanian children to a free primary education
Education Act of 1978 i.e. every child of school going should be provided with education.
The Education Act (1978) statutes a compulsory schooling and regular attendance at primary level of education. The Education Act (1978) statutes a compulsory schooling and regular attendance at primary level of education.
The Education and Training Policy (1995) endorsed the right to pre-primary and primary education and adult literacy to all citizens as a basic right. – access to education to disadvantaged social and cultural groups.
The Child Development Policy (1996) aims at protecting children's rights as expressed in the UN Convention on the Rights of the Child. The policy recognises that measures need to be taken to ensure that all children of school going age are enrolled.
The National Policy on Disability (2004) urges the Government, in collaboration with stakeholders, to provide a conducive environment for inclusive education which would take care of the special needs of children with disabilities.
Tanzania has ratified the UN Convention on the Rights of the Child (1989) which outlines the right to education and training of all children
UNESCO Salamanca Statement and Framework for Action (1994) reinforces the obligation for schools to accommodate all children regardless of their physical, intellectual, social, emotional, linguistic or other conditions.
The Dakar World Education Conference (2000) recalled in the notes on the Dakar Framework for Action that "…the inclusion of children with various educationally disadvantaged positions…"
Article 24 of the UN Convention on the Rights of Persons with Disabilities (2006) urges the Member States to organise education for persons with disabilities without discrimination and on the basis of equal opportunity.
The National Strategy for Growth and Reduction of Poverty (NSGRP, or MKUKUTA) identifies disability and children among the crosscutting issues.
1997 Tanzania started implementing Inclusive Education and became a national agenda resulting to formation of National Strategy on Inclusive Education (2009 – 2017) in 2008. The main is to have a systemic change from segregated and integrated schools to inclusive education.
The establishment of institutions providing services
Many institutions were established by religious organizations for example
1950s the Anglican Church (the 1

st

 one) established a primary school by the name of Wilson Carlile for blind boys in Buigiri, Dodoma.
2

nd

 school was established in 1960 as Mpwapwa sec. school, established and managed by the government and it was only for boys.
In 1962 Swedish Free Blind School "Furaha School" established in Tabora- Primary level – special residential school for girls but in 1964 it became co-education.
1963 – Irente school for blind girls in Lushoto was established by Lutheran, it became co-education in 1972, it was residential.
1966 – Uhuru co-education in Dar es salaam i.e. unit with other students. It was established by government with help of voluntary services.
   ESTABLISHMENT OF SCHOOLS FOR DEAF
The first school was established in 1963 i.e. Tabora deaf mute Institute – Primary school level, established by Roman Catholic church, it was special residential school for both boys and girls.
1974 – Dar es salaam Primary school level was established by Tanzania society for deaf i.e.
it has day and boarding school, it follows regular curriculum and auditory training.
1981 – Bukoba school for deaf and Mwanga school for the deaf was established by Lutheran church and was special residential for both boys and girls.
1967 – The salvation army established school for children with physical disability i.e. Mgulani Primary school
The first government school in the field of special needs education was established in 1982. The school provided services for children with mental retardation. Intellectual Impairment (Mentally Handicapped Children) – Sinza  Maalum.
Limited services for children with autism and deaf-blindness were established in 1984s.
 The historical development of special needs education in Tanzania follows the development in most other countries: services for certain disability groups (the blind and the deaf) provided by churches and charity organizations are the first to develop, followed by small-scale educational provisions in special schools for other disability groups (e.g. persons with physical and intellectual disabilities)